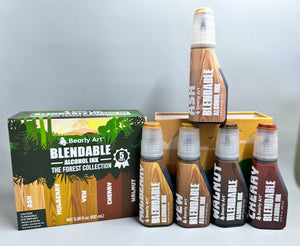 Bearly Art Blendable Alcohol Ink The Forest Collection
 Bearly Art Forest Collection Alcohol Inks 
5 Wood Colors 
.5 fl oz bottles 
Acid-free 
Nozzle Tops 
Bearly Art Blendable Alcohol Inks are designed to provide you with an array of vibrant highly saturated inks that mix well to make the perfect color every time.

They have been specially formulated to easily clean up with alcohol. Unlike water-based inks, these alcohol inks are able to achieve unique effects by blending different colors together by layering.

These inks dry quickly and seamlessly blend together to create beautiful works of art. Alcohol inks can be used on most non-porous surfaces like stone, resin, dominoes, glass, ceramic, glossy paper, and more.